PRODUCTS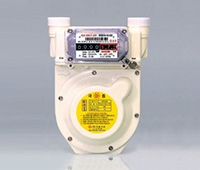 Gas Meters are in compliance with OIML International Standards and suitable for houses, commercial and industrial areas.
Gas Meters come to eliminate the crank noise and locking problem in cold season by adapting engineering plastics,
gas valves and valve seats.
Gas Meters employ a round metering diaphragm that is not transformed by change of temperature so
that the stable accuracy curve is obtained.
탭 메뉴로 이동
Specifications
Max flow rate Qmax
2.5㎥/h
Min flow rate Qmin
0.016㎥/h
Pmax
10kPa
Volume per 1 Rev
0.7ℓ/rev
Max indication volume
9999.999㎥
Min indication volume
0.2ℓ
Accuracy
Qmin ≤ Q <0.1Qmax : ±3%, 0.1Qmax ≤ Q ≤ Qmax : ±1.5%
Inlet/Outlet Port location
Inlet: Left side, Outlet: Right side → R type
Inlet: Right side, Outlet: Left side → L type
Inlet/Outlet Port distance
130mm
Inlet/Outlet Port Screw Dim
M34 × 1.5, M26 × 1.5, W36.3 × 11.5
Normal operating Temp
-20 ~ +60
Weight(Kg)
1.74
Applicable Gases
LNG, LPG
Accessories(Option item)for piping & supporting
Union(PT3/4 inch), Union nut(M34 , P1.5 or W36.3 or M25 or M26), Gasket
Dimension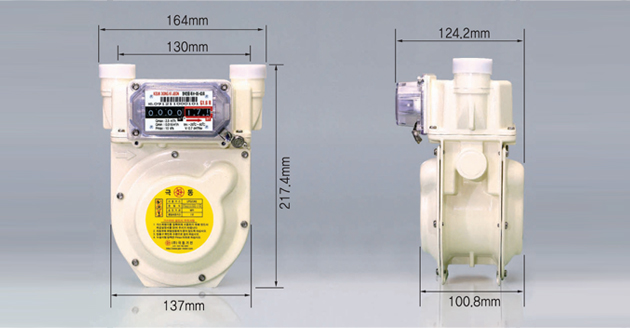 탭 메뉴로 이동